Flathead Are On!
Posted on Jun 6, 2015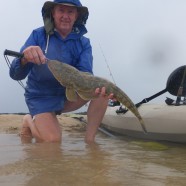 Fished the southern entrance of the Manning river from my kayak recently chasing Flathead on soft plastics. (Mainly 5″ jerk shads).
The Flatties were hammering the lures in the fast flowing water right in the Old Bar entrance. Hits nearly every cast.
Caught and released heaps of fish but took home a dozen fillets. Delicious!  Photo enclosed of one of the released fish.